Today we welcome Harlequin Special Edition author, Kathy Douglass to our Origin Stories feature.
Books have always been an important part of my life. I remember as a kid my mother reading Hop on Pop and Go Dog, Go to me and my siblings. I loved those times. But as much as I enjoyed having a book read to me, I loved being able to read to myself. I loved the freedom of being able to escape into the pages of a book whenever I wanted. And let me tell you, that was quite often.
Our house was filled with books. I'm talking floor to ceiling, two books high and two books deep bookshelves. We had boxes of books in the attic as well as the basement. When I was a kid, I "found" age-appropriate books on the dining room table or the piano bench. I was an adult before I realized that my parents were actually leaving the books out for me (and my brothers and sisters) to read.
As I got older, I began to go through the boxes in the attic and basement. I found some of my older brother's Hardy Boys and some of my older sister's Bobbsey Twins and became an instant fan of both. But it never occurred to me that I could actually write books of my own. It wasn't until I was an adult that I even considered writing.
The first time I thought of writing, I was on vacation with my best friend. As the plane was landing at the airport, I remember wishing I had a pen and paper so I could describe what I was feeling. And then a story formed in my mind. I told my friend about it and she agreed that it sounded intriguing. And then we went on with our vacation.
Fast forward a few years and I'm a mother with two small children. I had an idea for a story and once more told my best friend about it. She reminded me that I had talked about writing a book all those years ago. I had forgotten. Somehow in the busyness of life, I had forgotten my dream. Well, this time I was determined that I wasn't going to let my dream vanish without even attempting to make it a reality.
In the beginning finding the time and energy to write was hard. My responsibilities hadn't vanished just because I had renewed my interest in writing. I bought some spiral notebooks and when my kids were in preschool or napping, I wrote some really horrible romances. And then one day, my husband surprised me with a computer. He said if I was going to be an author, I needed the proper tools.
His faith in me sustained me when the rejection letters piled up. "The next book will be the one," he'd say.
Eventually his prediction came true.
My first book with Harlequin Special Edition, How to Steal the Lawman's Heart, was published in February, 2017. Since then, I have published many more books with them. My latest, Redemption on Rivers Ranch, will be in stores on May, 25.
Excerpt: Redemption on Rivers Ranch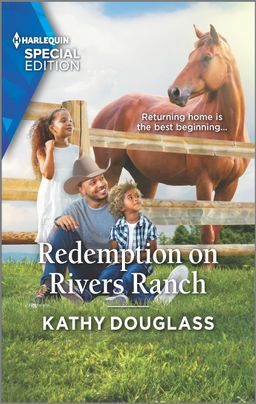 Lights were blazing in the house. No one was supposed to be there.
Carson considered calling the sheriff but decided against it. Only the world's worst criminal would turn on every light in the house. He'd assess the situation and go from there.
Pulling into the driveway, he noticed an SUV with out-of-state license plates. Mrs. Johnson had given him a key to the house, so he headed up onto the porch, opened the door and stepped inside.
Whoever was inside had made themselves at home. They'd dropped suitcases by the stairs leading to the upstairs bedrooms. Music was blaring from the back of the house. Someone was singing at the top of her lungs. The fact that she was nowhere in the vicinity of the right key didn't stop her from singing with gusto. Her attempt to hit a high note pierced his ears and propelled him forward if only to save his hearing.
A child laughed.
What in the world was going on here?
Carson stepped into the kitchen. A woman and girl of about seven were dancing around the old Formica table, trying to convince a boy who looked about ten to join them. The boy was leaning against the sink, his arms folded over his chest, clearly uninterested in participating in the revelry. The woman laughed and the sound struck a chord inside Carson, stirring a distant memory inside him. He silenced the echo, focusing on the matter at hand.
The intruders were so wrapped up in each other that they hadn't noticed him. He twisted the knob on Mrs. Johnson's ancient radio, silencing the music.
The woman spun around, then pushed herself in front of the girl. "Who are you and what are you doing here?"
By rights Carson should be the one asking questions. "I'm the owner's neighbor. Who are you?"
The woman stepped closer, sizing him up. She studied his face for so long that she could have been searching for an answer to life's mysteries. After a long moment, she smiled. "Carson?"
He nodded and looked at her more carefully. The coffee-colored eyes danced with mischief. It couldn't be. Fifteen years had passed since his friend had visited. But looking closer at her beautiful face with clear light brown skin, high cheekbones and full lips, he knew it was her. "Gabriella?"
She launched herself at him, squeezing him in a tight hug. "It's been years."
"Yes, it has." He'd been invited to her wedding years ago, but hadn't attended. Carson hugged her briefly, then stepped back and forced himself to ignore the way his body reacted to the contact.
Holding Gabriella had felt like sticking his finger into a live electric socket. And when they ended the hug, his blood was still humming. He smothered the response. He might be the son of a killer, but he'd never hit on married women. He wouldn't start with his childhood friend.
Grab it now!
Kathy is a born reader who as a child always had her nose in a book. That love of reading grew with her and she went from reading Bobbsey Twins to long romance novels. Then she started law school and her reading was limited to legal opinions. One day she discovered Harlequin romance novels. They were a perfect fit for her busy life. She could complete her required reading and enjoy a romance novel.
When her first child was born, Kathy stopped practicing law to become a stay at home mom. Her second child followed nineteen months later. With two little ones in the house, reading suddenly became limited to children's books.
All too soon her children were attending pre-school two hours a day. She spent those few precious moments renewing her relationship with romance novels. After a while she felt the urge to write the stories she wanted to read – sweet, small-town contemporary romances featuring African American characters.
Kathy's first book was published with Harlequin Special Edition in 2017. Since then, she's published nine additional books and one short online read with Harlequin. When she's not writing, Kathy enjoys spending time with her family.